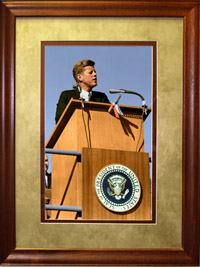 The primary purpose of the Archives is to digitize and make available historical photographs. The two primary historical collections are the photographs of S. W. "Walt" Lewis spanning more than 40 years at Hanford and in the general Tri-Cities area and Jerry Lewis' photographs of the Class of 1973 of Richland High School (Col-Hi). I've been at work, scanning photos and other documents lately. And I'm making available framed, matted copies of the colorized version of Walt's great photo of John F. Kennedy. Additionally, I've produced a full-color book which has a series of photos of the J.F.K visit, mostly by Walt. Buy a photo or photobook.
I really need a better flatbed scanner. If you're feeling generous, you can purchase a print or donate to the archives.
If you would like updates, or are submitting information, please
register
(not required, but nice).
Other Pages
© 2007-2010 - Atomic City Archives & Jerry Lewis - All Rights Reserved. Permission is granted to use photographs for personal, non-profit, non-publication uses. The only request is to send me a note
and let me know which picture you're using and why. For web and other use, please
contact me
for permission. Attribution and copyright notices are required for all public uses.